For those of you who are thinking of abstaining from voting this year out of frustration, here is one reason
why voting matters
:
The 9th Circuit Court in California struck down as unconstitutional the state's voter-passed ban on gay marriage Tuesday, ruling 2-1 that it violates the rights of gay Californians.
"Proposition 8 serves no purpose, and has no effect, other than to lessen the status and human dignity of gays and lesbians in California, and to officially reclassify their relationships and families as inferior to those of opposite-sex couples," Judge Stephen Reinhardt wrote in the decision. The court concludes that the law violates the 14th Amendment rights of gay couples to equal protection under the law. Access to gay marriage will remain on hold pending appeals to the decision.
What does any of this have to do with voting for President? It is the president who appoints the judges of the circuit court of appeals. Do you want a president who appoints judges that supports the rights of
all Americans?
Or...
Do you want a president who appoints judges who supports open discrimination of minorities?
There is some history here to support this. Obama has repealed DADT and
"the president has long opposed divisive and discriminatory efforts to discriminate against same-sex couples."
Romney? Here is
what he said
about today's ruling from the courts:
"Today, unelected judges cast aside the will of the people of California who voted to protect traditional marriage. This decision does not end this fight, and I expect it to go to the Supreme Court. That prospect underscores the vital importance of this election and the movement to preserve our values. I believe marriage is between a man and a woman and, as president, I will protect traditional marriage and appoint judges who interpret the Constitution as it is written and not according to their own politics and prejudices."
Rights are not political. Right's are not something to be debated or chosen. Rights are universal and human, and everybody should receive them. And we don't need a president who will pick judges who will support policy that openly discriminates against a group of people and takes away their
rights.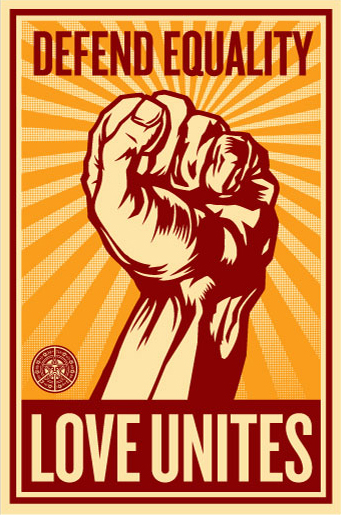 PEACE